Where do Hiring Managers Find Employees?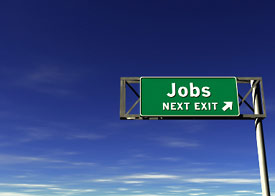 Job searching is one of those things you do because you have to. Luckily, the World Wide Web has made things easier, where all you have to do is carve out an hour or two of your time, upload a resume to an online job board, cross your fingers, and get on with the rest of your day. Still, the nagging notion of whether your resume will ever make its rounds with hiring managers will linger with you.
Well, you can un-cross your fingers and stow the nagging doubts, for now, at least. According to a recent survey by the Inavero Institute for Service Research, 50 percent of hiring managers used online job boards more than traditional means to find its potential employees in the past year. If you prefer to find a job in a newspaper, 47 percent of hiring managers found its potential employees there too.
That brings up the question of job fairs; are they productive? The survey revealed that job fairs led to the highest number of candidates interviewed, about 5.2 per situation, but only four percent of recruiters eventually hired the candidates from the fair. Twelve percent of hires were generated through online job boards.
The study also revealed that different recruiting tools were used for different types of industries: e.g., to seek blue-collar, hourly-wage workers, hiring managers used newspapers more often. And for professionals, who make higher salaries, online job boards and referrals were used more often.
A referral is still the most trusted recruiting tool for a hiring manager. As far as value, it received an eight out of 10. Almost 46 percent of white-collar jobs were filled this way.
Despite the new craze of social-network Web sites like Linked in, FaceBook or MySpace, only three percent of hiring managers recruited there in the past year.
Here are the top ten recruiting tools as highlighted in the survey:
Online Job Boards: 51%
Local Newspapers: 47%
Referrals: 40%
Company Web site: 37%
Monster.com: 23%
Staffing or Recruiting Firm: 22%
Careerbuilder.com: 19%
Associations: 19%
Job Fairs: 18%
State/Federal Employment: 16%
Related Articles: