College Graduation: Are You Still Alive?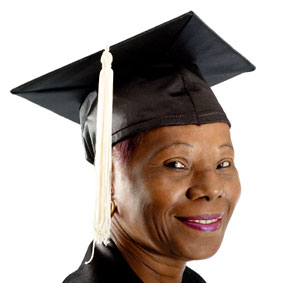 If you've made it to this point, college graduation, pat yourself on the back, deservingly so, because you've just surpassed the unthinkable, surviving college as an older person. It wasn't easy, was it? Yahoo professors and laxer students who should've had a little more home-training when their parents unleashed them into the world. But it's over now! And now it's time to find a job. First, here's what to expect before you graduate.
HOW MANY CREDITS DO YOU NEED IN ORDER TO GRAUDATE COLLEGE?
The secret about college is that it usually takes more than four years to graduate, five to six years is more like it. One-hundred twenty credits is the average required for graduation, but colleges sneak in more credits with prerequisites and things like language requirements that you hadn't factored in. Plus, many nontraditional students might have had to take remedial courses, just to get back into the swing of things. These courses could range from reading, writing and one of my favorites–algebra–which could add an additional half-year to your load.
Don't forget, you have to actually file for graduation. The school doesn't keep track of your academic doings. Besides, they don't know if you're going to extend your stay, so you can work on twirling movements in that belly-dance class you may have just signed up for. Or you may repeat human anatomy so you can take another good look at your insides. As I've stressed before, in college, you are responsible for your own learning.
WHAT ARE YOU GOING TO WEAR TO GRADUATION?
Most likely, you will wear a dreadful robe over your couture garments, so wear comfortable clothing items. However, you, your family and friends might want to celebrate afterwards, so wear something you can feel proud of when looking back at those dreadful photographs.
THE GRADUATION EVENT IS NOT FREE
Colleges have to cover their expenses. They're a business and they can't eat the cost of the entire graduating class and their spectators–at least that's what their public relations persons would say. The best way to go about this is to have a plan: Will each members of your party pay their own tickets? Will you pay half? Or would you check into the Salvation Army's discretionary income about the tickets?
A FRIEND IN NEED IS A FRIEND INDEED
Be nice to your fellow graduates because they could end up being your boss. Not only that, networking in college is key. Most of the cushy jobs are not advertised. These jobs are also the least competitive. Why wouldn't they be? No one knows about them, except your college buddy who's got a killer job at an ad agency or at the local supermarket packing bags. But he knows about the position at the corporate office in the finely air-conditioned building.
Still, a job is not promised to you. Hundreds, if not thousands, of people your age got their college degrees ten, fifteen, twenty years before you did. Although a college degree will increase your competitive edge in the job market, it will not promise you a job.
ARE YOU GOING TO GRADUATE SCHOOL?
Since you're in "school mode," you just might figure: "Why not go all the way to graduate school?" You'd have a point. I thought about going to graduate school in my sophomore year. And had made a commitment to do so by the time I was a junior.
THERE'S COLLEGE, THEN THERE'S THE REAL WORLD
You're up to date with all the internet gizmos and you start unloading all of your sexy pictures onto Myspace–"I love you Pookey!"–while using your real name and not a screen name. Dumb. You're employers know how to use Myspace and Facebook too. Leave those college tricks to the 19-year-old students. Your life will go on after college. Your internet profile is important.
LEAVING FRIENDS BEHIND AT COLLEGE
You've spent a lot of time in college, and as a human being, you've grown attached to the place. You've struggled with the other students, despite being several years their senior. You've created memories that hopefully won't last a lifetime, but your education will. Perhaps you've even created some life-long friends. And I don't dare say you'd like to repeat the experience. You can still keep in touch with the college friends of your choosing. That's a good thing, right?
Related Articles: